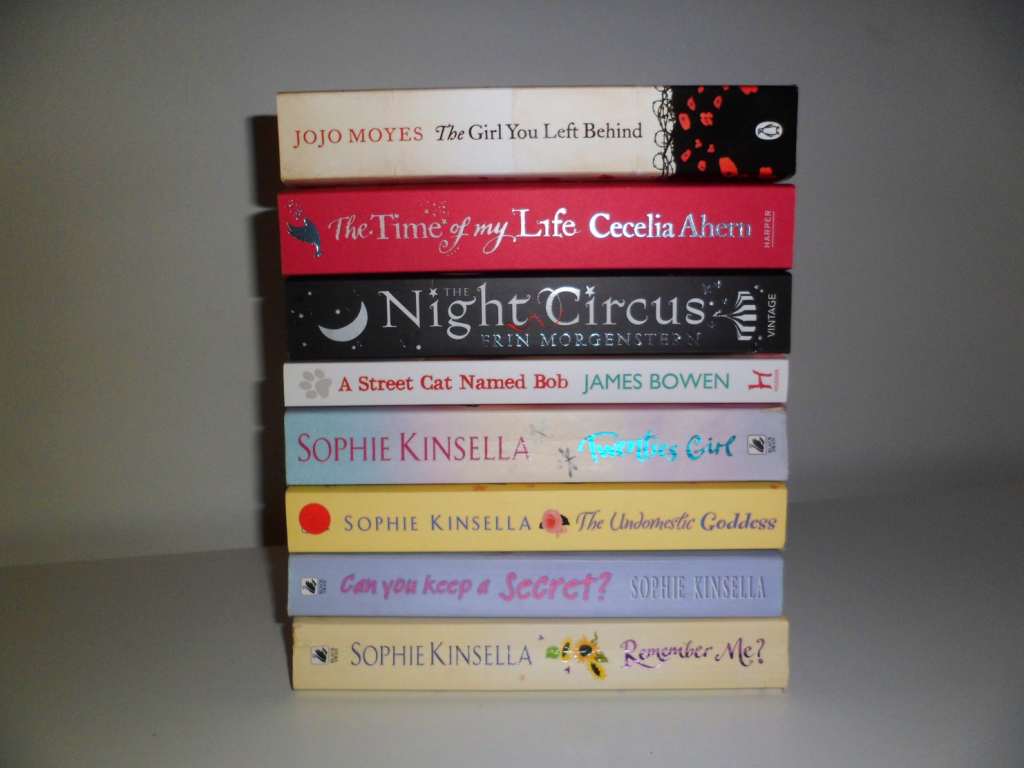 Booooks! Can you imagine how excited I was when these arrived? I love opening the Amazon packaging and smelling a good book or two (or eight, in this case). Half of them are new, half of them are used. I prefer new books, but they can be expensive, so I settled with used Sophie Kinsella ones. They were all around £2, including P&P. I don't normally read books like the Sophie Kinsella ones (I normally read dystopian, action types), but I read Twenties Girl and really enjoyed it, so thought I'd buy some more. They're also loved by many, so it's highly likely that I'm going to enjoy them too. As you can see, I bought Twenties Girl even though I've already read it. The version I read was from the library and I wanted my own copy. That's another reason why I bought it used - I'd already read it.
The top four books are new. The Girl You Left Behind by Jojo Moyes was £3.99, The Time of My Life by Cecelia Ahern was £1.99 (Bargain! This was on offer. I think it's back to £3-4 now), The Night Circus by Erin Morgenstern was £3.86 and A Street Cat Named Bob by James Bowen was £3.86. A Street Cat Named Bob is a real life story about a cat. You may be thinking 'whaaat?', and I agree, it's very different to anything I've read before, but that's why I bought it. I don't like to stick to one gender of book. I was sceptical about The Help by Kathryn Stockett because it was so different to anything I had read previously, but I ended up loving it. Also, A Street Cat Named Bob has loads of positive ratings and reviews, so it can't be all bad!
If you're a book worm like myself, stay tuned for my 'Favourite Books of 2012' post. The Help is included, as well as another 20 books! It's going to be a long one.
I'm currently reading The Fury, which is really good. I probably won't finish it in time for the post, but I'm sure I'll mention it in another post at some point.
If you would like to stay up to date with the books I'm reading and lusting over, you can visit
my profile
and become friends with me on
Goodreads
. I seriously love that site. I think it's the best site I joined in 2012!