I went shopping today! I felt like I hadn't been in ages, but it was probably just a few weeks. It was so quiet it town, considering the Christmas sales started yesterday. In fact, it was quieter than it normally is throughout the year! There was no one in Lush and there were no queues in Primark - Shocker! I'm always quite level headed when it comes to shopping, and the Christmas sales are no different. I feel so guilty at the thought of wasting money (so I try to justify everything haha). Quite a few of the items you see below are for birthdays, Mother's Day, even next Christmas! Here we go...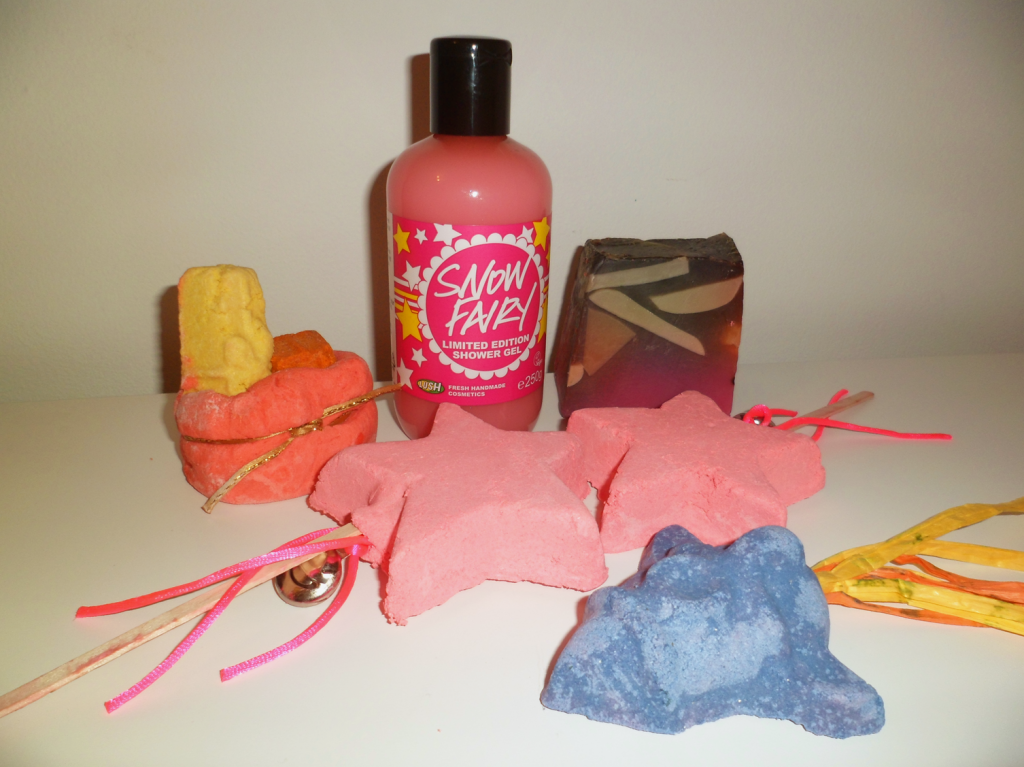 Of course Lush was on the agenda. They didn't have any of the Christmas bath bombs though, so I'm not sure what's going on there. They had loads of everything else. Anyway, I bought my first bottle of Snow Fairy shower gel for £3.12 (the prices I'm giving are after the 50% discount), 2 Magic Wand bubble bars which were around £2.50 each (these are for birthdays!), a Rocket bubble bar for £2.50ish (which smells like Parma Violets! I wish I bought another one now), a Santa's Sack bubble bar for £2.09ish and a 200g chunk of Mr Punch soap for £3.75. Once I got home, the Mr Punch soap smelt different to me, so I'm going to try and swap or sell it.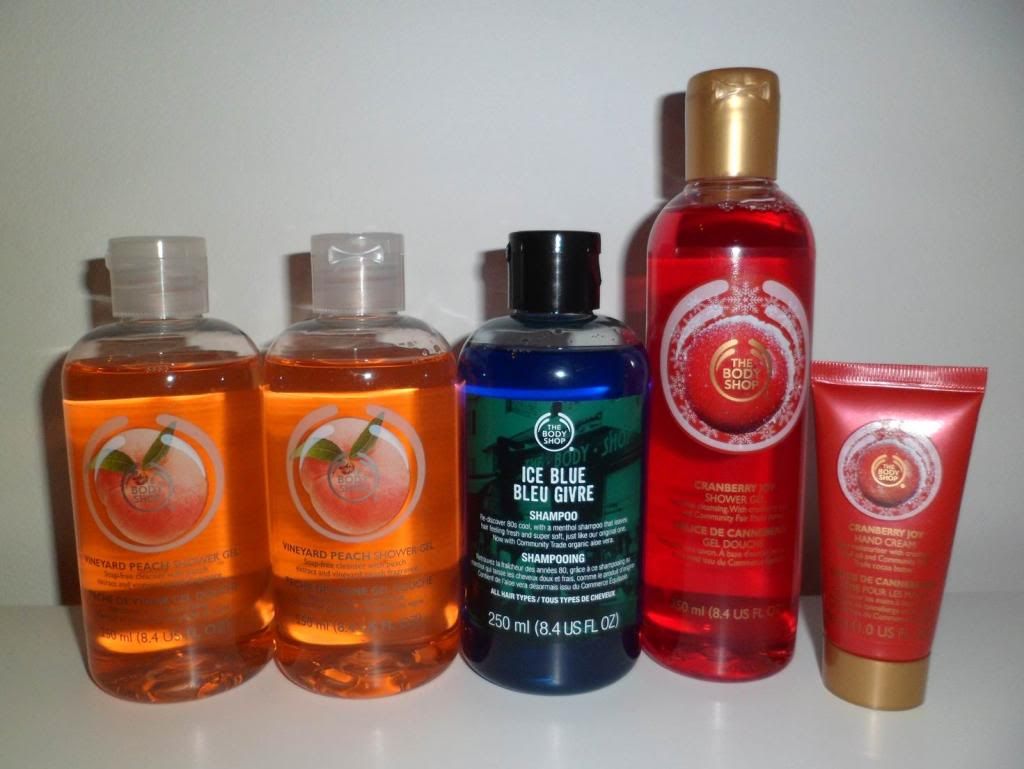 I then went to The Body Shop. I think this was the first time I've bought stuff in store. I normally buy online because of all the amazing discount codes. I was buying my mum a bottle of the Vineyard Peach shower gel, which was half price at £2, and once I smelt it, I had to buy a bottle for myself. It smells delicious! The Ice Blue shampoo, Cranberry shower gel and Cranberry hand cream were also down to £2 and I bought them for my dad for his birthday. The Cranberry products... oh my. They smell good enough to eat. I may have to keep them!
I'm always underwhelmed by Boots' Christmas sale. I know people love it for the Soap & Glory products, but I've never tried or been interested in them. I do love Boots Extracts though, and thought this mango gift set was a bargain at just £5. One Christmas present for 2013 down ;)
I can't go shopping without visiting Primark. These two items were not in the sale, but they were cheap anyway. The large cosmetics bag was £4 and the slippers were £3. I also bought a pair of ugly moccasin slippers because I knew they were going to be super comfy. They also have a rubber sole, meaning they won't get disgustingly dirty on the bottom!
I spent a small fortune in H&M. I don't regret it though because they're items I always wear. The pink, mint green and yellow garments are cardigans and were £9.99 each. I think I have every colour of their cardigans now! The lilac garment is a lightweight jumper and was £14.99, which is pricey for what it is, but I bought it in the heat of the moment! The teal and black tops are scoop necked and long sleeved, and cost £7.99 each. Again, I have a variety of colours of these and wear them most days. The quality of them is amazing and they last so well.
After my sister and I got back from town, our dad informed us that he was going to Tesco. I couldn't pass up a trip to Tesco. I found these boots for just £15, and they weren't even in the sale. I love them. I really hope they last. My other boots from Tesco didn't last very long, but that's because the soles weren't durable. These soles are rubber and chunky, so finger's crossed!
I've also bought a couple things from the online sales, and they're all things I've had my eye on for months. The coat is from New Look and was £35 down from £55. I wanted a more formal coat, so I'm hoping this is nice enough to keep. From Superdrug, I bought the Remington Pearl hair dryer, which was £24.99 down from £38. I rarely blow dry my hair, but I do blow dry my dogs after I've bathed them, and a hair dryer is always useful to have. The one I currently use is really old and I'm always scared it's going to explode because it has sparked a couple of times! I chose the Remington Pearl one because I have the Remington Pearl straighteners and the Remington Pearl conical wand, and love them both. To receive free delivery, you needed to spend over £25, so I added a little chocolate truffle to my basket which cost 29p haha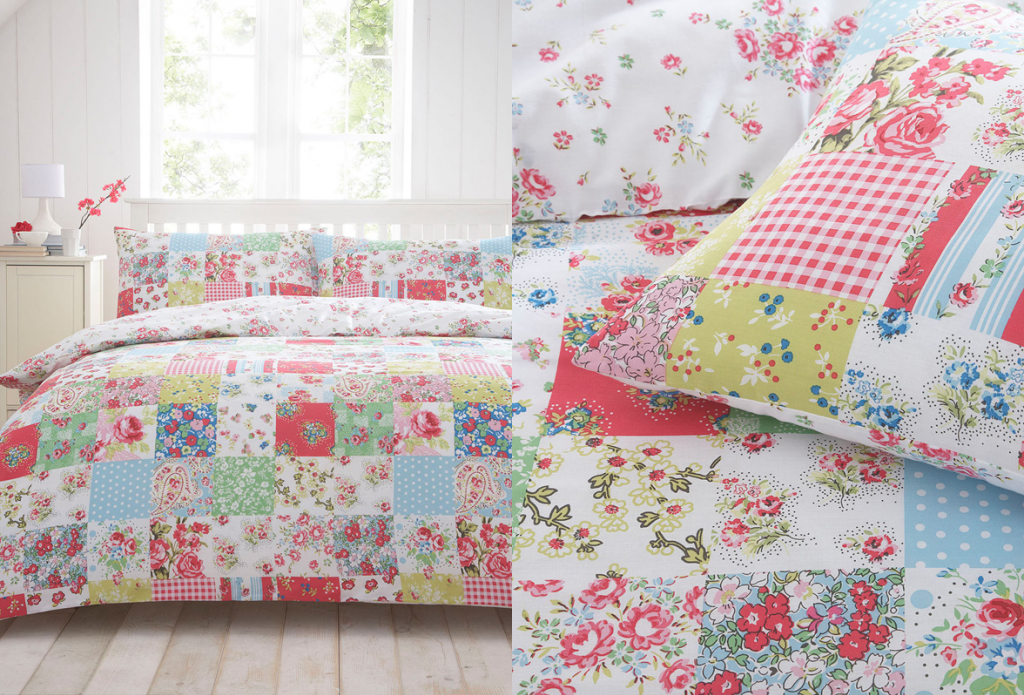 This bedding was the first thing I bought in the sales. It's from BHS and cost £22.50, down from £45. It's not to everyone's taste and I'll admit that it's quite garish and in your face, but I'm drawn to it! I was looking at it months before the sales, so I think it was meant to be. If the design gets too much for me, I can flip it over and have a simple, floral pattern :) I also found a £5 off code which worked on sale items. To redeem it, you had to spend at least £25, so I also bought a mug.
I would love to see what you've bought in the sales, so link me up!