Studio Cream Blush in Heart Breaker, Studio HD Blush in Headliner, Studio Baked Blush in Peachy Cheeky
Studio Bronzer in Warm, Studio Eyebrow Kit in Medium, Studio Maximum Coverage Concealer in Porcelain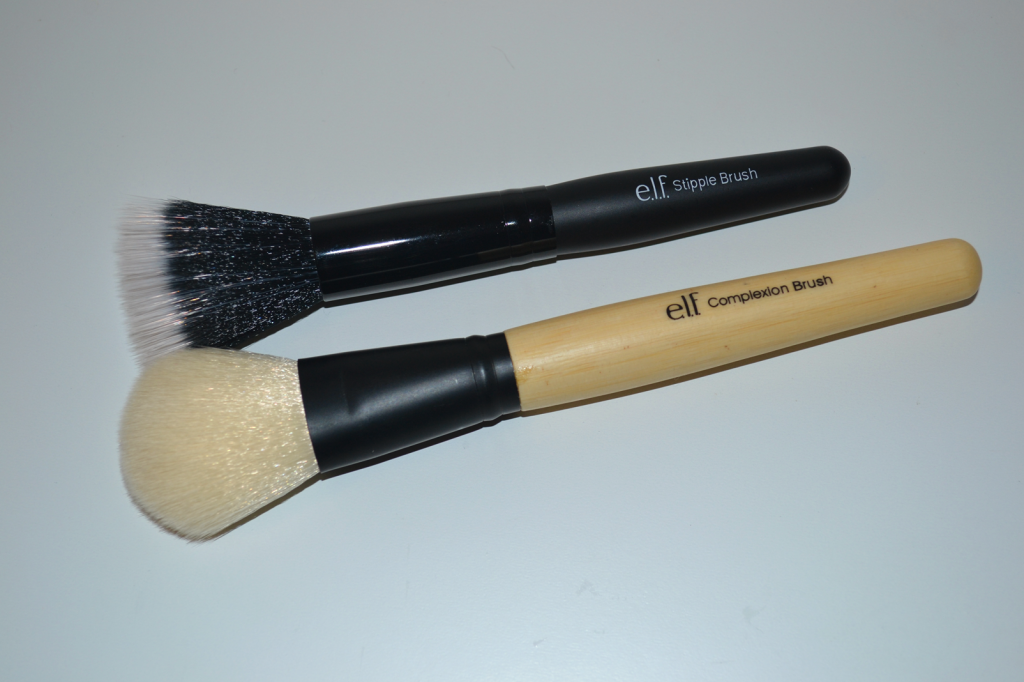 Studio Stipple Brush, Bamboo Complexion Brush
ELF, e.l.f, Eyes Lips Face, you know what I mean!
Looking back through my blog, I can see that I hadn't ordered from ELF since April 2012! Since then, new releases didn't excite me and they increased their prices. Their mineral lipsticks are now £5, so it's cheaper for me to go into Boots or Superdrug! However, last week, I saw that they had quite a few new products available and a free delivery code was going around, so I 'treated myself'. The products I picked up were either products I've wanted for ages or new releases.
I picked the the
Studio Cream Blush in Heart Breaker
. The blushes were originally £6.50, which I think is overpriced for ELF. However, they were in the sale for £3.50. I was undecided between Flirt, a cool toned pink, and Heart Breaker, a warm pink. I ended up choosing Heart Breaker because I feel like warm blushes suit my complexion better. The texture is really weird! It's like sponge/clay. I'm excited to use it.
The Studio HD Blush in Headliner intrigued me because I've never owned a liquid blush before. I've seen that they're incredibly pigmented, so picked up the lightest shade. The bottle is very small, but I can see it lasting ages.
The next blush I ordered was the Studio Baked Blush in Peachy Cheeky. I love baked blushes and don't own another peach shade. I'm hoping this will suit my complexion well!
The
Studio Bronzer in Warm
was the next product to be added to my basket. I've wanted this for years, but never added it to my basket because some people didn't like it. I then thought that there's always going to be people that don't like something, and everyone is different, so ordered it.
The
Studio Eyebrow Kit in Medium
is my third one. I use it every day!
I then ordered the Studio Maximum Coverage Concealer in Porcelain. I love my Collection 2000 Lasting Perfection one, but I'm running out, so thought I'd try something different this time. You get a whopping 20ml! If I end up liking it, it'll be a huge bargain. The shade is perfect for me, too.
Another product I've wanted for ages is the Studio Stipple Brush, but it was out of stock for a long time. My cream blush collection is growing, so wanted something that would apply them well. I've currently been using a normal blush brush, but it's quite dense and picks up a lot of product.
The Mineral Bamboo Complexion Brush was a bargain. I couldn't pass up a £3 bamboo brush in the sale. I've got a few of the Studio Complexion Brushes and love them, so knew I would love this too. The hairs are light in colour, which is good and bad. You'll be able to see how much product you pick up, but you'll see how dirty it'll get. But, then again, that's a good thing because you'll be reminded to wash your brushes!
I didn't repurchase any of the brushes I already own this time - I have too many! It's always tempting at £3.75 a brush though.